Among other things, this past year saw the publication of a new corpus of the Linear B tablets from Pylos: Les Archives du Roi Nestor (ARN), edited by Louis Godart and Anna Sacconi. Featuring pictures, drawings, and transcriptions — but no translations or commentary — it's an austere work:
He had also bought a gift for Henry: a corpus of Mycenaean inscriptions from Knossos.

I looked through it. It was an enormous book. There was no text, only photograph after photograph of broken tablets with the inscriptions – in Linear B – reproduced in facsimile in the bottom. Some of the fragments had only a single character.

'He'll like this,' I said.

'Yes, I think he will,' said Francis. 'It was the most boring book I could find. I thought I might drop it off after dinner.'

Donna Tartt, The Secret History
Godart worked on that one, too, so it's a fairly apt description. But though hardly a beach read, ARN does make some important claims, and is in some ways not boring enough — not least because of an introduction (freely available here) which blithely posits some bold new arguments.
Even for those of us interested in page after page of broken tablets, though, the nature of this year's 'other things' meant that reading through a new corpus wasn't quite the top priority (and that's just for those who could get their hands on it: the two volumes together will set you back €990). But reviews have started trickling in (Ferrara , Civitillo, and the best so far — albeit it in German — Weilhartner), and some of its new claims are catching wider attention.
And, for what was already well-studied material, there were a lot of those, not least a complete renumbering of scribal hands (so Hand 1 is now 601, and so on and so forth), re-attribution of many tablets, and the identification of entirely new scribes. Some of this is certainly right, but as with any radical edition, it will take scholars a long time to work out what will stick and what won't (Anna Judson's concordance is an excellent starting point).
At any rate, it is not my intention to offer a full review of ARN (unless someone wants to send me a review copy). But I do want to examine of its most extreme claims: that the conventional date for the destruction of the palace, and so the Linear B archive, is off by about 50 years. Dating in the Aegean Bronze Age is typically done, not by absolute dates derived from radiocarbon or other scientific methods (though this is slowly starting to change), but by relative dates derived from pottery style (more on the methods and difficulties of dating here). In these terms, Godart and Sacconi want to see the destruction occur in Late Helladic (LH) IIIB1, rather than very early LH IIIC as is more commonly accepted (so ca. 1250 BC rather than ca. 1200). The most distinctive, and so dateable, feature of pottery is often its decoration, but while Blegen and his team found tens of thousands of complete vessels at Pylos, the vast majority were plain. The relative date of the destruction has, therefore, been the subject of legitimate disagreement between pottery experts over the years.
The editors' new date picks up on this, but the treatment is highly selective, and relies on a 2004 article by Patrick Thomas that argues for a final destruction in early LH IIIB. Recent studies which support the traditional, lower date (Vitale 2006, Mountjoy 1997) are not mentioned, nor is recent archaeological work on the palace itself (Hruby 2006, Lafayette Hogue 2011). In fact, most of their evidence is presented in an email from Jean-Claude Poursat, reproduced in a footnote. It does not particularly lay out the reasons for favouring a higher date, but does present some context:
'Actually, there are two positions: that of P. Thomas (destruction in LH IIIB1, around 1250 BC), and that of the excavators of Pylos, who hold absolutely to the low date, around 1200 BC… Jack Davis and his colleagues maintain a date at the very beginning of LH IIIC for the destruction of the palace by contesting and minimising the importance of ceramic analyses such as those by P. Thomas.'

(ARN xvii-xviii, n. 42, my translation)
The whole issue is, in fact, discussed with more emphasis on who is offering the interpretations than the merits of either case. While there may be room for disagreement, neither editor displays the ceramic or archaeological knowledge required to make their argument seriously.
Perhaps unsurprisingly, this archaeological perspective has not been emphasised in most reviews. Rather, reviewers haver picked up on an argument that the editors are eminently qualified to make: the new attribution of a tablet to a known scribal hand. The identification of hands is one of the Mycenaean epigrapher's standard tools, and bears more than a passing resemblance to Beazley's method for identifying painters in Attic Black and Red Figure pottery. As with his largely-pseudonymus attributions (Berlin Painter etc.), we do not know the names of individual Mycenaean scribes (or even that they were dedicated scribes in any meaningful sense, rather than simply literate administrators), so we identify them as Hand x, based on the distinct ways they write individual signs. These attributions can help identify everything from joins between fragments to the nature and extent of a scribe's administrative activity. What is particularly interesting about the editors' new attribution is that it seems to connect tablets from two separate archaeological contexts.
Though the vast majority of tablets from Pylos date to the final destruction and form a coherent corpus, there are a handful do not belong with this main archive. These are generally from earlier or mixed archaeological contexts, and probably date from LH IIIA2, prior to the construction of the familiar palace in LH IIIB1. It is one of these — La 994 — that Godart and Sacconi have attributed to a known scribe, Hand 13 (their 613), thereby arguing that it should be associated with the main archive.
This attribution is made on the basis of a rare feature of the wool logogram, LANA (logograms are signs which stands for words — like our $ — and are conventionally named in Latin). Like many others in Linear B, this was inherited from Linear A, where it was formed by combining the cat's head sign ma (yes, this is probably onomatopoeic) with the sign for ru, apparently to represent the word MA-RU (sometimes instead spelled out in full), which should be (a) Minoan word for wool; it may be related to Hesiodic μαλλός, 'wool'.
You can see the logogram here in red on a Linear A tablet from Agia Triada (HT 24a):
Note the 'eyes' in the cat's head, especially clear in lines 1 and 2.
The sign was constructed in basically the same way in Linear B, with the cat's head ma still the base (though now somewhat more abstracted) and something more like a re or ro adjuncted — probably just a graphical simplification.
Here's a pretty typical version from Knossos (KN Dk 671).
The ears have been extended, the ru element compressed, and — vitally — we've lost the eyes. Though these were a typical feature of both Linear A MA+RU (wool) and the bare MA sign, in Linear B we get the eyes only once in the ma sign (painted on stirrup jar MA Z 1, which poses its own problems) and (it was thought) only once in the LANA sign, on PY La 994.
Here is La 994 from Godart's corpus:
Though broken, this is pretty readily identifiable as the bottom part of LANA or ma, with eyes clearly visible. Godart and Sacconi have now identified the same feature in the LANA logogram as written by Hand 13.
On La 632:
And La 635:
They're small, and hard to see at first, especially on La 632, but Hand 13 has definitely added extra points — 'eyes' — to the logogram in both cases. This is brilliant find, and distinctive enough that it offers a firm basis for scribal attribution, though La 994 is so fragmentary that this can only be tentative.
The editors demur somewhat on the significance of this attribution, merely noting that it assists those positing an early date for the main archive (xviii). But they do not really spell out how this should work. La 994, whatever hand wrote it, was apparently found alongside Ae 995 underneath rooms 55-7 of the current palace (Palaima, Scribes of Pylos 113). It must therefore antedate the final palace, and cannot be associated archaeologically with the main archive, which belongs inside the palace at the date of its destruction.
Though this provenience is not entirely secure — the relevant notebook was missing when Palaima established the tablets' findspots — it is universally accepted, if prudently marked with a question mark (as in the draft of PoN IV). Godart and Sacconi have not challenged it (xviii). Their interpretation should therefore be that both the early LH IIIA2 destruction and the final destruction of the palace happened within the lifespan of Hand 13. Since the earlier destruction can be dated to ca. 1300, and the editors place the latter around 1250, this is just possible. I am not entirely confident that this was the argument they intended to make, but it fits the evidence as they present it; as in the section on dating, the editors' interpretations would be better served by more fulsome discussion.
The ambiguity of their argument is reflected in various reviews, which offer interpretations different from that adduced above. So Ferrara:
What is proposed by this palaeographical re-evaluation is not without repercussions: Godart and Sacconi offer a considerable shift in the chronology of the Pylian tablets, and, they argue to move the whole Archive to an earlier date, namely the Late Helladic IIIB1, as opposed to IIIB2, the phase which has been commonly accepted. The argumentation pivots around the scribe behind tablet La 994, whom they propose was also responsible for other documents related to tablets dealing with wool—La 632 and La 635—all of which would share the same date, namely the beginning of the 13thcentury BCE.

BMCR 2020.12.28
And Civitillo:
Returning to the palaeographical analysis of La 992, La 632 and 635, if the same scribe is responsible for all these tablets, it would follow, according to the authors, that all of them are to be attributed to the same chronological horizon; the whole Central Archive, as a consequence, may need to be dated before the generally accepted Late Helladic IIIB2/ Late Helladic IIIC early date.

Mnemosyne (2020), 1-17
Both reviewers seem to think the LH IIIA2 date of La 994 — a date determined by its context beneath the final palace — should now be used to date the entire archive. Unless Civitillo's 'same chronological horizon' refers, as above, to the lifespan of Hand 13, this is simply impossible. La 994 is given an early date because it is not part of the main archive; we cannot turn around and use that also as a date for the final destruction.
But this isn't even the real problem. In a 2001 Minos article, José Melena proposed that the tablets written by Hand 13, which represent the bulk of those found in the megaron, did not belong to the main archive. Against the old interpretation that they had fallen from an upper storey of the final palace, he posited that 'the tablets are likelier to be the remnants of a previous clearing operation… [which] were later used in making crude bricks, used in reparation works on the upper storey of the Megaron' (367). This is further supported by Shannon Lafayette Hogue's work on the upper storey of the palace, which found that the megaron almost certainly did not have a balcony or upper storey from which tablets could fall, as in the famous reconstruction: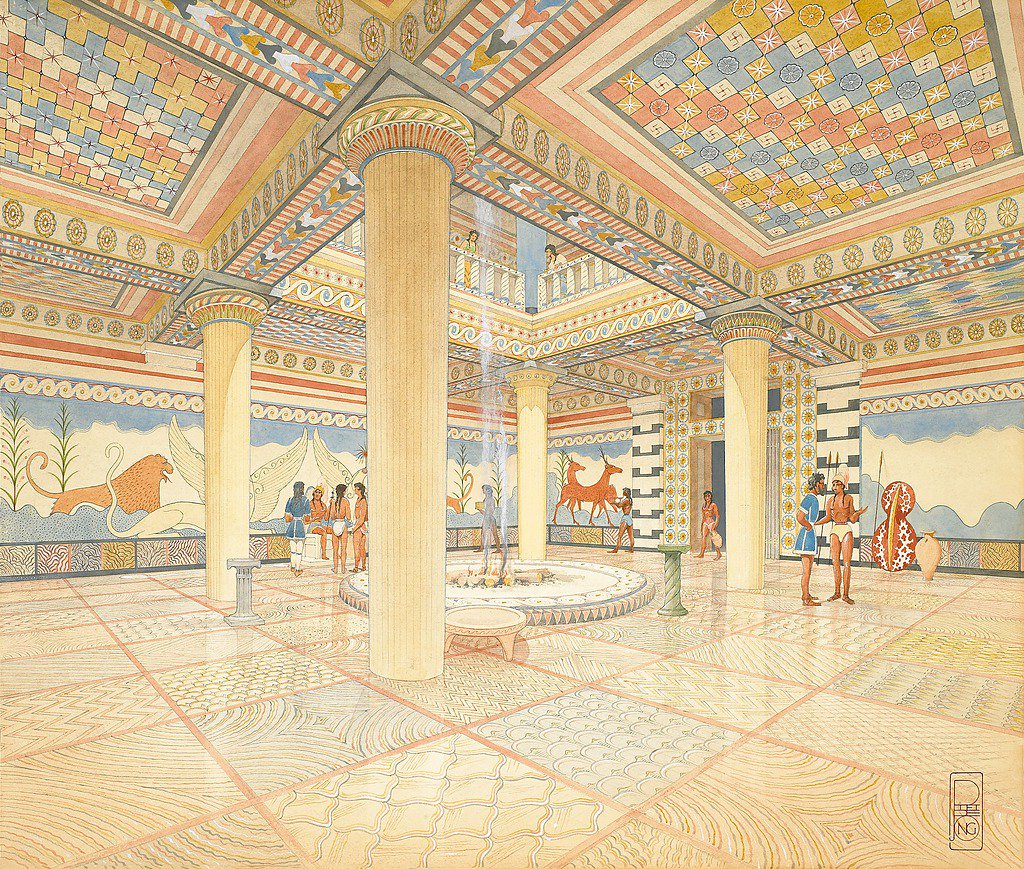 Christina Skelton addressed the tablets themselves in a 2010 Kadmos article, where she was able to demonstrate on palaeographical and pinacological grounds that the work of Hand 13 was entirely distinct from that of other scribes at Pylos, with its closest affinities to the small group of early tablets discussed above — including La 994 — and the earliest deposit of Linear B at Knossos. She was also able to demonstrate that no tablet by Hand 13 was found outside the megaron, and that his work therefore had no necessary association with the main archive. Rather, the work of Hand 13 was a distinct corpus, fortuitously preserved when it was incorporated into the mudbricks used to build the megaron in complete accordance with the archaeological data.
In fact, Skelton even posits the association of La 994 with Hand 13:
Ae 995 and probably Ua [now La] 994 come from Rooms 55–57, a "complex of rooms [which] preserves at least three successive and complicated phases of occupation together with 'wares of Mycenaean IIIA'" (Palaima 1988, 113). Ua 994 contains a single sign, the lower half of a LANA. This LANA shows two dots between the two semicircles and the vertical line in the lower half of the sign. These dots are unparalleled in the Linear B corpus, and the examples of LANA found in the Megaron tablets do not have them (Nosch 2007). However, since Ua 994 shares the same subject material with the Megaron tablets, and is fired bright red, like the Megaron tablets, there is a possibility that it may have been fired in the same destruction as the Megaron tablets. However, this must remain speculation, given the fragmentary nature of this tablet and its poorly known archaeological context.

Skelton 2010, 111.
The case is of course much stronger now that Godart and Sacconi have identified the same 'eyes' on La 632 and 635. But in light of Skelton's assessment, attributing La 994 to Hand 13 does not associate it with the main archive, but simply another early deposit, and can have no implications for the dating of the final destruction.
The association of La 994 with the main archive was the most significant argument put forth in the corpus for an earlier destruction of the palace. But as the work of Hand 13 forms part of a separate, earlier deposit, this new attribution has no bearing on our interpretation of the main archive. Against what has been reported, therefore, Godart and Sacconi have not made any meaningful argument for adjusting the date of the Pylos tablets. While they have also presented some archaeological evidence in favour of their early date, their evidence is too selective and discussion too limited for this to be a meaningful contribution. While archaeological and epigraphic assessments can be fruitfully married, the editors have not succeeded in that endeavour, and there is no reason to re-date the destruction of the palace based on their claims.
I am grateful to Dimitri Nakassis for guidance and additional references, as well as the scans of La 632 and 635 from ARN.